Partnering for a greener future
For Manufacturers and Haulers
Our goal is to create lasting partnerships with our customers by offering a sustainable and highly competitive economic solution to food disposal needs.
1. Contact us for an initial meeting.
2. We perform a site visit to collect a sample and review your waste disposal setup.
3. We provide a proposal including price and potential customized set-up to simplify your food waste collection.
Then once we have an agreement…​
When your containers are full, our reliable trucks or our premier hauling partners get dispatched straight to you for pick-up 24 hours a day, 7 days a week. 
We are one of the only companies in the US to accept all types of food waste from a variety of businesses across the food industry. Given the high value of animal feed, we charge substantially lower tipping fees compared to other food recycling solutions, including compositing and anaerobic digestion.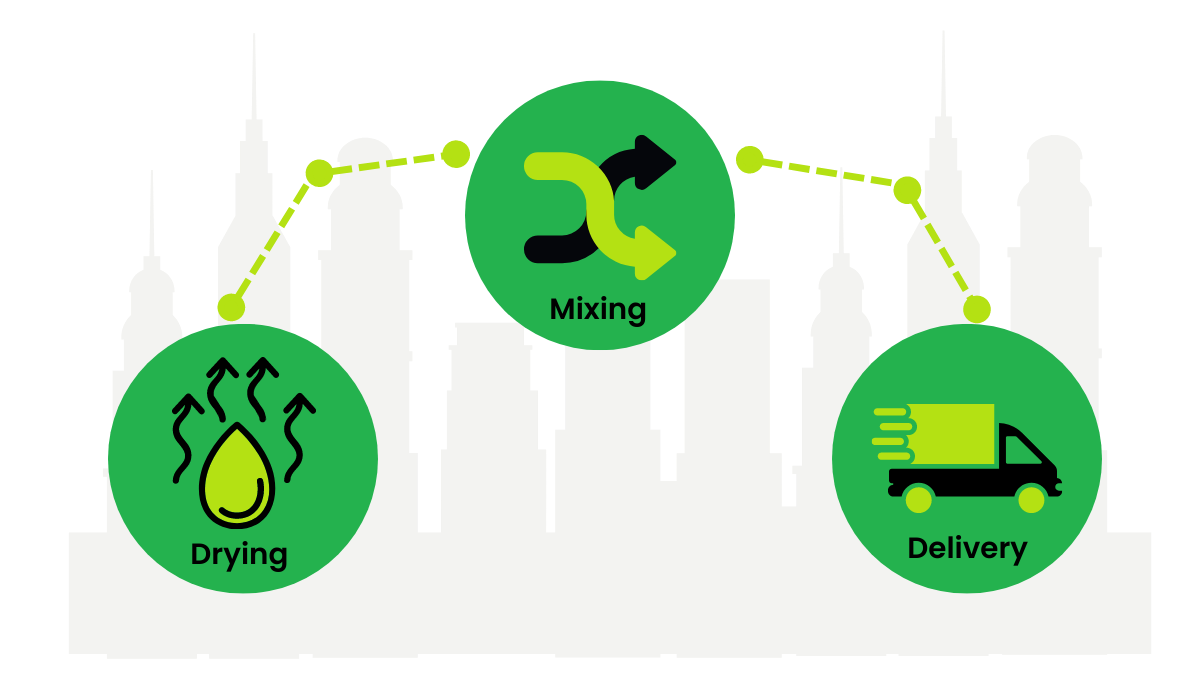 Our state-of-the-art technology and AI allow us to produce premium quality blends. We produce an extremely consistent feed with high digestibility that is ideal for use in a variety of pet food, poultry, swine, aquaculture, and dairy feeding operations.
We provide a unique process with a consistent outcome. Our feed supports local agriculture allowing us to pass the savings back to you.
Frequently Asked Questions
What is your service area?
Our current service areas include Massachusetts, Connecticut, part of New York State, Rhode Island, and New Hampshire.
What types of food can be recycled?
We can take any type of unwanted food as long as the raw material was meant for human consumption, including packaged food. We will pick up your unwanted food in dedicated containers, which we will provide and place at your plant, or your waste hauler can deliver it to our facility.
How does your pricing work?
Pricing is based on the amount and types of material that you dispose of. After taking a small waste sample, we could come back with a proposal within days.
We work with each individual customer to develop a pricing strategy that is simple and straightforward. Unlike most recyclers, we are able to pass the savings we generate from selling our animal feed end-product on to you — making our pricing more attractive than any alternatives. We also offer drop-off service directly at our site or at one of our designated collection facilities.
What equipment is required and do you provide it?
Our service team will work with you on the right solution for your business. We can supply any size container and equipment that will best fit for your operation. For businesses that dispose of a significant amount of food, this may require a dedicated chute for food and either a compactor or trailer which we will provide and install. Our objective is to ensure continuous uninterrupted service for your operation.
Will any of my food end up in a landfill or incinerator?
No. We are a zero-waste facility with 100% of our food waste converted to animal feed and all packaging recycled.
Can you accept packaged material?
Yes. We have a state-of-the-art de-packager that allows us to take and recycle all packaged material. 
Do you provide reporting?
We weigh each individual pick-up and drop-off, and we will provide a detailed automated monthly report so that you will be able to track and monitor your food waste and have full transparency on your bill. We want to ensure you get full sustainability and ESG reporting credit. Note, weekly reports available upon request.
Can I use our partnership in marketing?
We want to celebrate our partnership. Therefore, we will provide a marketing package for your business to ensure that the benefits of reducing greenhouse gas emissions and decreasing your carbon footprint accrue to you and you are recognized in your community for your sustainability and environmental contribution.
Do you provide emergency pickups?
We pride ourselves on having the fastest response time to unforeseen events at your business that require immediate pick-up of your unwanted food. We are partnered with commercial haulers and have our own dedicated fleet to ensure that we will be able to respond to our client's needs no matter the hour or circumstance. We answer calls 24/7 and will guarantee emergency pick up within hours.